COMFORT IN COMMUNITY – UPDATE
With the signs and sounds of spring blossoming around us, it is a refreshing signal that light and life continue. The bulbs and branches that have lay dormant, quietly awaiting their moment to emerge. The chirping of birds calling each other as they nest – protecting those dependent on them and allowing nature to take its course. It is not something that can be rushed or pushed along in haste.
Enthusiasm and eagerness fill us with energy and anticipation to look ahead, yet it is patience brings about the most beautiful gifts we can imagine. Patience is a practice of peaceful acceptance and contemplation – introspection and retrospection. It allows ideas and creativity to percolate. It shifts our focus to what we can control and avoid the frustration of that which we must let go. Through this process, we develop hope and faith. When the time is right, we will be rewarded.
Last week, further surveillance testing continued for Villa residents and staff as part of our proactive approach to protect our community. One resident, who had no symptoms at all of Covid-19, tested positive and this shows the remarkable value of surveillance testing as a tool to protect residents and staff. The test result immediately triggered our rigorous outbreak procedures in partnership with Public Health and 12 days after outbreak we are happy to report that the resident is now virus free and all of our residents have tested negative. We will finish testing staff this week and so far all have tested negative. We thank residents, families and staff members for their support and participation not only in this study, but in the considerable measures and precautions that they have adopted throughout the duration of the pandemic. We also thank the Research Laboratory at St. Joseph's Healthcare Hamilton for helping to make us leaders in this testing. This teamwork and trust are crucial to our success and have a direct impact on how we will emerge from this period. Many of our long-term care counterparts are embarking on this journey now, and we are thankful that they will be able to call on us if the need should arise.
The Ministry of Health, public health officials and the province continue to provide strong leadership and guidance to help us protect residents and staff. We are proud to be working closely with our partners in the St. Joseph's Health System and Hamilton Health Sciences on positive initiatives that will support health care in Hamilton well after the acute risks of the pandemic have passed. The innovation and ingenuity of business owners, community groups, donors and friends of the Villa amaze us. We cannot thank you enough for your thoughts, prayers and donations, now and always. Thank you for standing with us.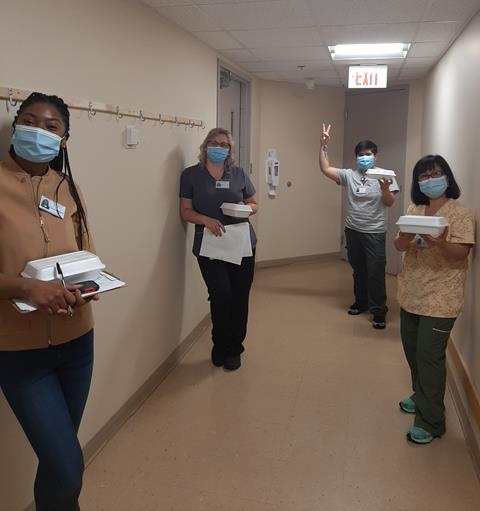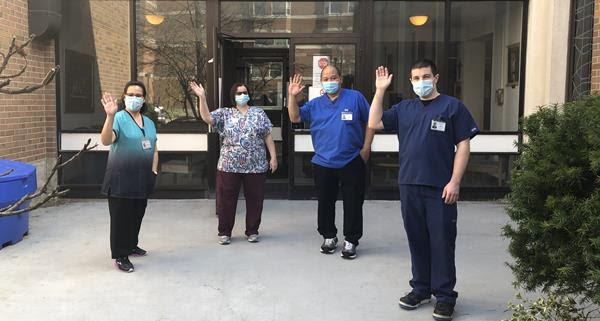 The Magic of May
May marks the beginning of Staff Appreciation month at the Villa. While group gatherings and celebrations have been postponed, we are finding other ways to honour our incredible team. Each Villa staff member brings unique skills and talents and plays a vital role in keeping our community of compassionate care running smoothly and efficiently. Thank you for your efforts today and always. Your experience and empathy comfort those you care for and your fellow colleagues. We are blessed for your commitment and dedication to our mission of service.
Spirits are soaring high as friends and family of Villa staff and residents, volunteers and donors are brimming with pride and reaching out to offer support in every way they can. Throughout the pandemic, St. Joseph's Villa Foundation has been focused on supporting the Villa's most critical and pressing needs. St. Joseph's Villa Foundation Board Chair, Dave Curto, has been moved by the Villa's efforts and shared his gratitude and appreciation for the Villa team on behalf of the Foundation Board.
With our Virtual Visiting and Companion Calling Programs in full swing, some of our volunteers have reached out to their friends and family who have been eager to help. Cards for our residents from young ones like Blake and or a hand-painted banner from Ita's granddaughter remind us that kindness is ageless. It's never too early to get involved, because it's never too early to care. From your hearts to our ears, thank you!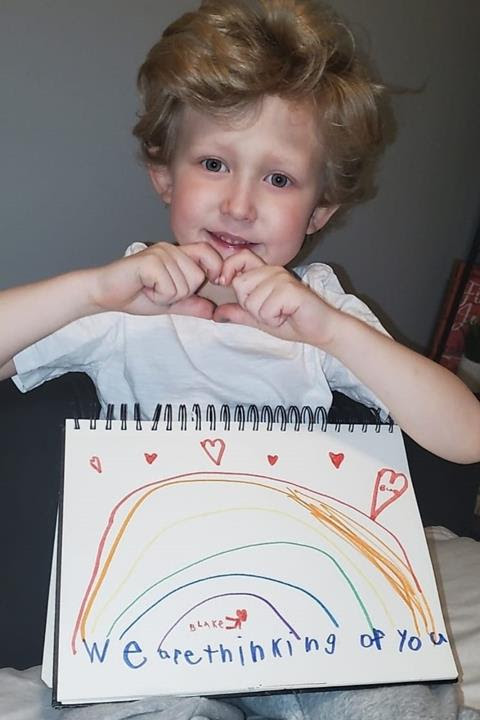 Family member Bryan Murray delivered a stained glass purple heart for staff last week. Hand-crafted, he left a note and asked that we hang it as a symbol of the Villa team's courage and fortitude. Dan Cowan and Mark Kuhlmann of Niagara Covid-19 3D Printing for PPE have been hard at work supporting front line workers. Utilizing their 3D printers, last week they donated over 100 ear savers to help Villa staff whose ears needed a bit of relief. You can't see their grins from under their masks, but you can bet they are smiling ear to ear. Thank you.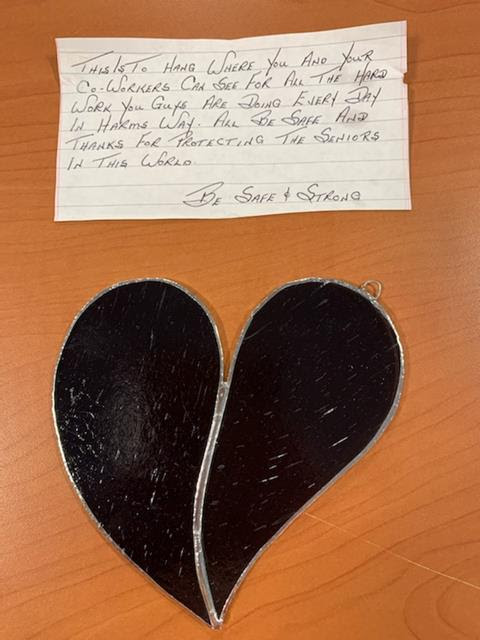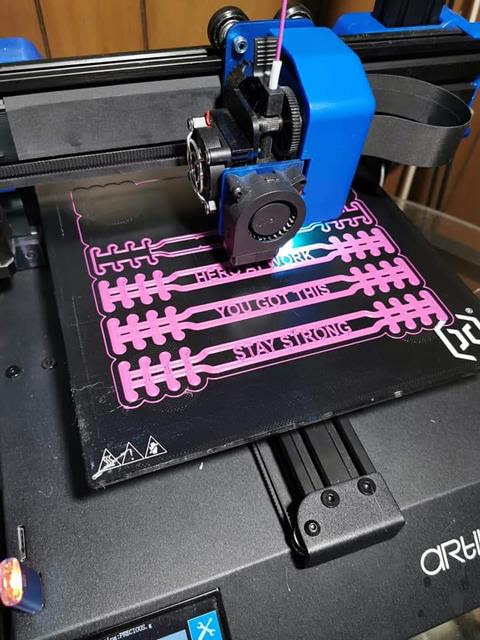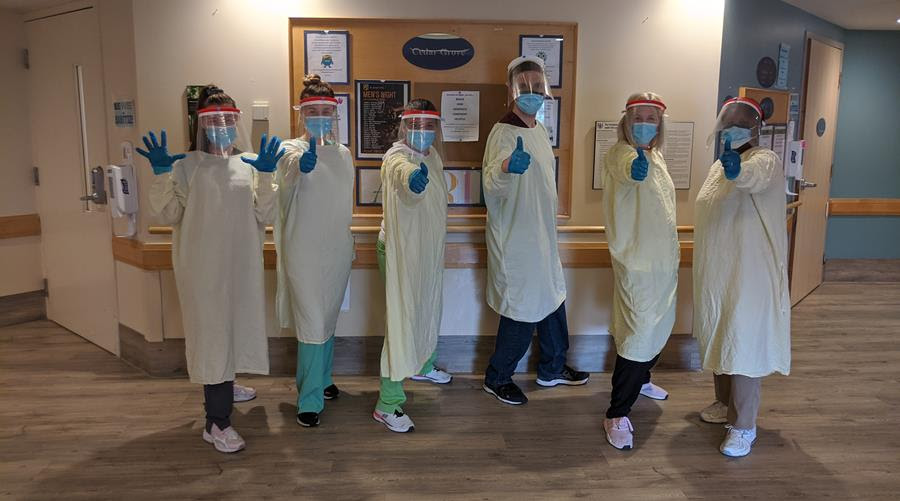 Realtor Angelo Fazzari, who has family members working at the Villa, knew a sweet treat would be the perfect way to end a long week! Leggat Auto Group, Utter Morris Insurance, Scotia Capital and West End Home Builder's Association partnered up again to deliver a feast for our day shift staff from the Thirsty Cactus. In addition to the delicious meal they provided last week for our evening/night shift staff, these individually packaged meals for 300 on-site day staff are yet another sign of organizations living out their missions to build and better our community. Thank you Angelo, Brian, John, John and Suzanne to you and all of your teams and colleagues for support the Villa team on the front-lines of this health crisis.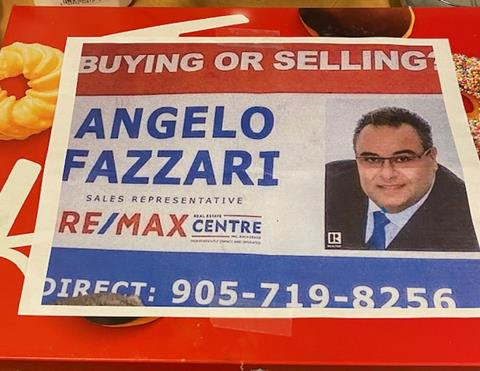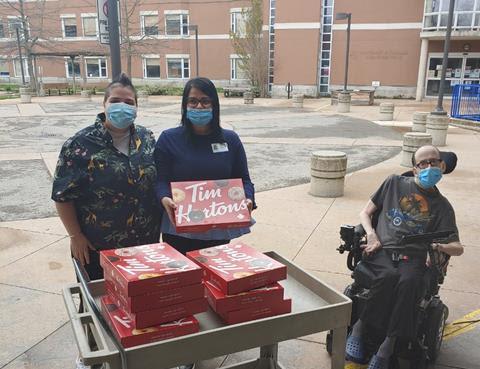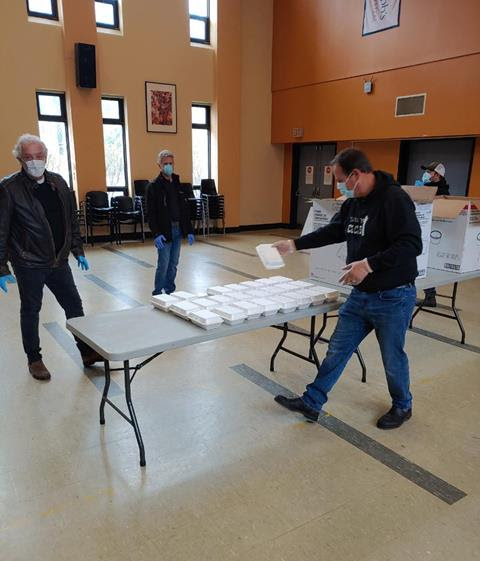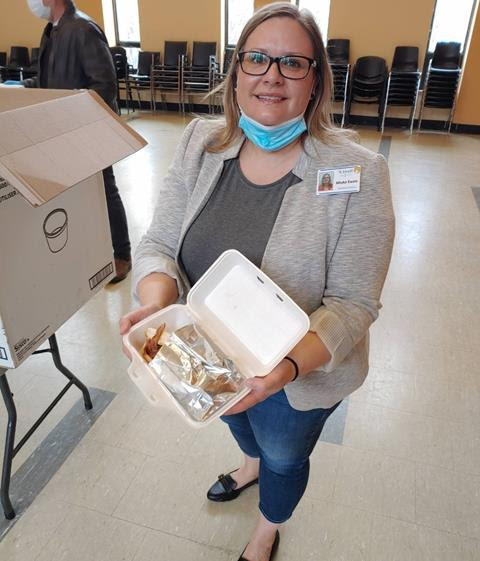 The Real McCoys, Dundas' Hometown Hockey Heroes rode into the Villa in style on Friday evening to salute our Health Care Heroes. When they would normally be battling it out on the ice at Grightmire Arena, players and their families came together as a team to tour Dundas and salute residents and seniors, tucked away in isolation and show their gratitude for hardworking health care and front line workers. As strong Villa and Margaret's Place Hospice supporters, they pulled out all the stops to show their community support.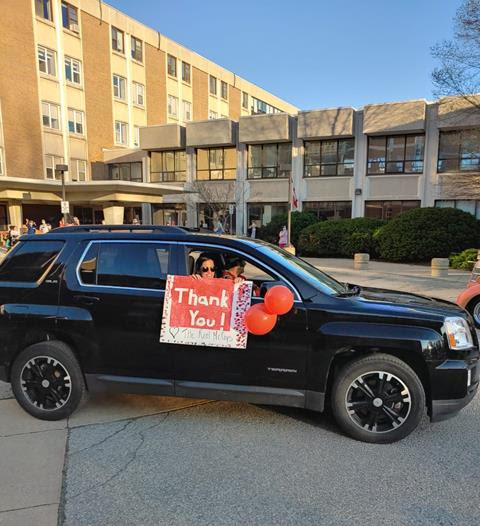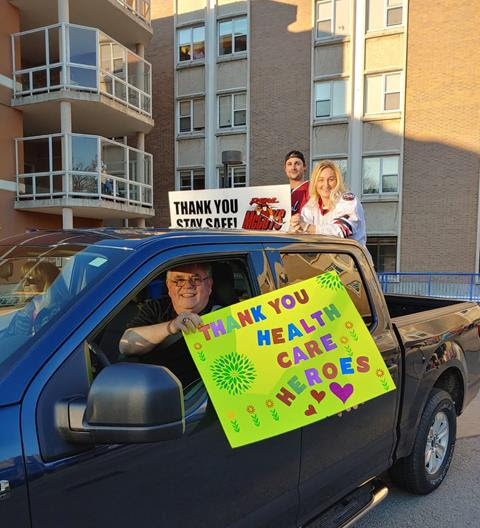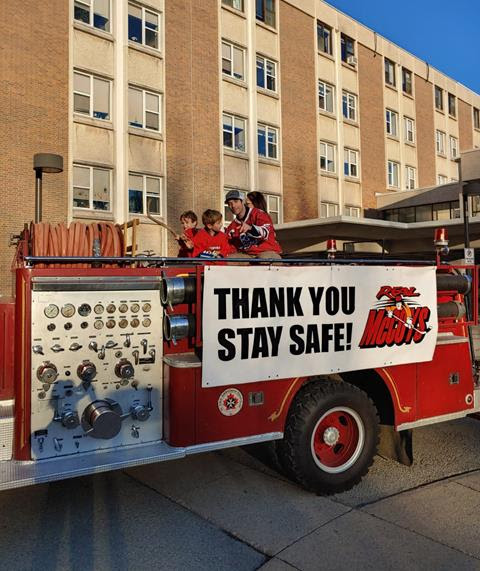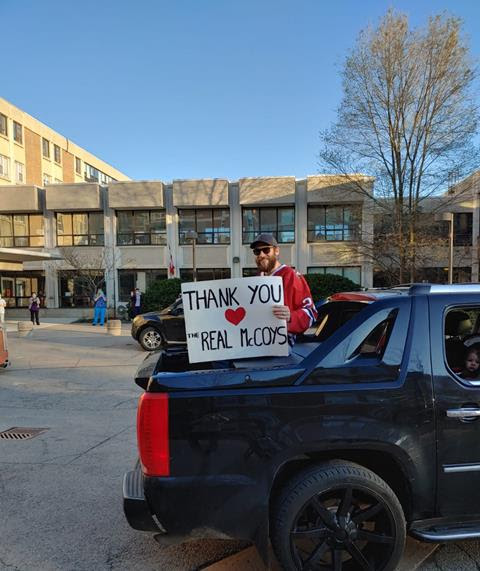 Pandemic Pluses
Never ceasing to delight us with his wit and wisdom, our poet-in-residence Glenn had a few more musings on benefits we might be experiencing in his latest poem: Pandemic Pluses 2.
Who's Counting Anyway?
It's not every day we get to celebrate such a special occasion. Villa staff decorated the halls and hosted a birthday party to mark Fred's 100th birthday. His friends at the Villa serenaded him in Happy Birthday and he visited with his family over Skype. Can you imagine how much change Fred has seen in his lifetime? His positivity and good sense of humour might be one of the secrets to reaching this milestone. He makes it look so easy! Happy Birthday Fred!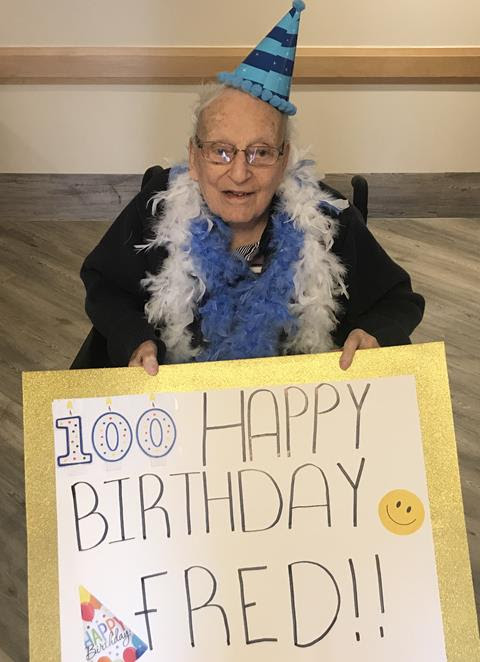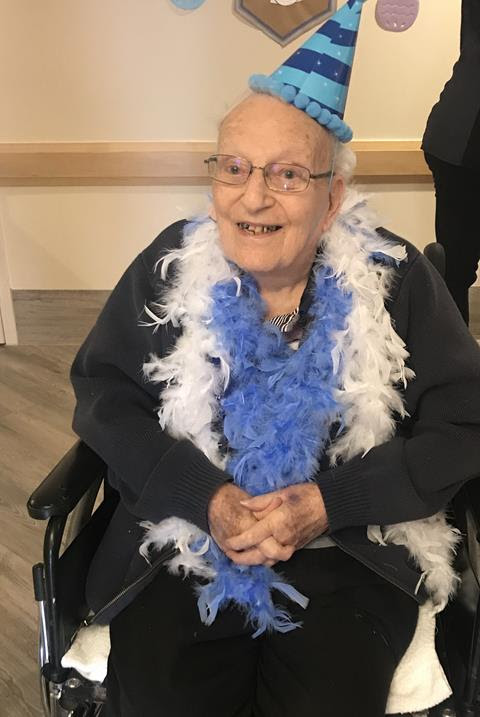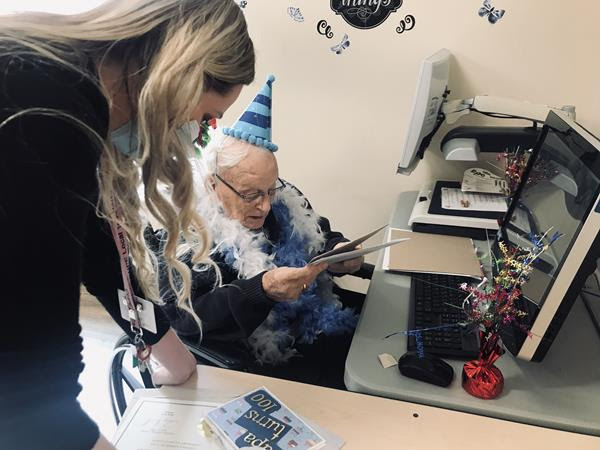 As many theorize and plan for the time when we will emerge from this period, we take comfort in the connection and compassion of our community. Thank you for standing with us. We feel your light shining over us and we know life continues. We celebrate every step that we take together and we wait to welcome you through our doors, once the time is right. For now, continue to practice patience. Stay the course! Your efforts are working.
Now more than ever, your support matters.
As May is Leave A Legacy Month, consider becoming part of Villa history. Make a gift that will help us care for residents today, and provide for the needs of families tomorrow.
Honour a staff member or a special occasion in your life by making your legacy one of care and compassion. Your gift to St. Joseph's Villa Foundation today will have a lasting impact on our community tomorrow. To start planning your legacy, please contact D_Davidson@sjv.on.ca. Thank you for standing with us.
For updates on how the Villa is addressing the Covid-19 pandemic or to find out how you can help, please visit our website. Follow us on Facebook and Twitter for all our good news stories.
Be safe, be well, be healthy,
John Woods, President – St Joseph's Villa & Don Davidson, President & CEO – St. Joseph's Villa Foundation