COMFORT IN COMMUNITY
Trees of green, red roses too, blooming for me and you – It is indeed a wonderful world, thanks to you.
The warmth of the sunshine finally seems to match the warmth and tenderness that the Villa has been showered with over the past two months. Every time we need a ray of sunshine, a glimmer of hope, a lantern in a dark tunnel, you are here!
From staff to volunteers, family members to donors, every day we are grateful making the world around us wonderful. How incredible it is to be living through this experience surrounded by such a compassionate, generous community. Your gifts, donations, cards, signs and messages of love are enough to light up the very darkest of hours. You make our days shine a little brighter.
Weeks of strict safety and infection protocols, diligent monitoring and proactive precautionary measures have helped us to weather this storm. Inside the Villa we test a resident or staff member if they have one mild symptom that could be Covid-19. The expertise and preparedness of the Villa team and tremendous community support continue to be our greatest defense in protecting the most vulnerable. There is still much work to be done. Timelines and recommendations will continue to shift and change.
We now know that more than 40% of Covid-19 cases have been spread by people who have not yet shown any symptoms at all. A homemade mask, or a scarf, keeps you from spraying droplets into the air and is one of the most effective ways that you can keep people safe. It is also important not to shout or sing when other people are around because this sprays droplets further. If you do feel unwell get tested – even one day has been shown to make a difference preventing further spread – remember you could have infected other people days before you became ill, and a quick test means others at risk can be quickly traced and tested.
Your commitment to practice physical distancing, increased hand-washing and limiting your shopping trips to essentials will continue to keep all of us safe. Sure as the sun is shining, we know our community will help us make it through. Thank you for standing with us.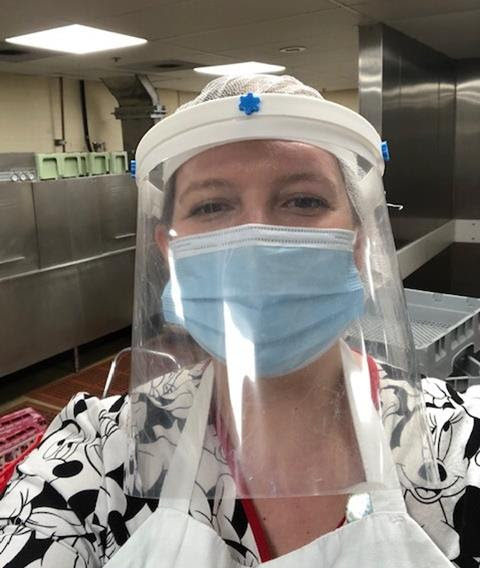 Balcony Beauty
Every Spring residents look forward to planting colourful flower beds, pots and planters with our Therapeutic Recreation team to brighten up the balconies on Resident Home Areas. After carefully selecting and placing the plants, residents help to look after them during the summer months watering them and watching them grow. On Friday, Greenbelt MicroGreens arrived with a huge assortment of plants of every size and variation, graciously donated to make this program possible. Thanks to this thoughtful gift, the TR team will be able to create a beautiful gardening experience for residents. Horticulture therapy programs are known to alleviate stress and improve mental health, along with social interaction and engagement. They can also help to give purpose and focus. This generous gift from Greenbelt Greenhouses is helping us to give residents a better quality of life.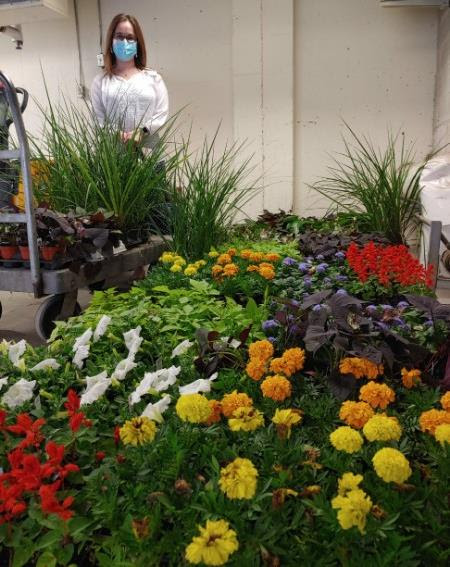 Reception Reno
As our first point of contact for family members, residents, clients and guests, the Villa's main entrance is a hub of activity. Screening staff have been stationed here throughout the pandemic, taking temperatures and monitoring staff coming in and out of the building. It is a vital area of the Villa that serves an important role in protecting the safety of our residents, creating a sense of community and making visitors feel welcomed.
Thanks to the generosity of St. Joseph's Villa Foundation donors, we are proud to announce that the Reception Reno is complete! As foot traffic has lessened during the pandemic, we are grateful to be able to tackle some of the projects that are critical for improving accessibility, safety and privacy. We can't wait for you to see this "front-desk" facelift when it is safe to welcome you back.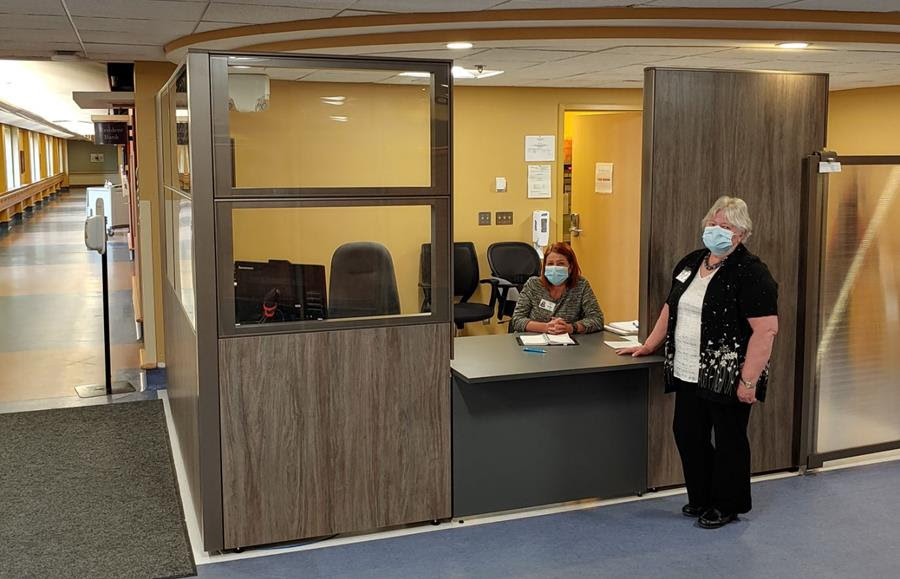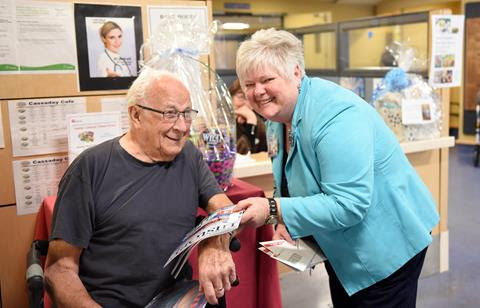 The Reception Reno comes at a bittersweet time. Sandy Zwerver is the face and voice of the Villa that you know and love – the Villa's main receptionist.
As our first point of contact, Sandy's positivity and patience with residents and Villa knowledge will be sadly missed as she retires at the end of this month. We're glad Sandy will be able to put her stamp on the new space before she begins a new chapter of her story.
CONGRATULATIONS SANDY!
Happy Retirement! You will be missed!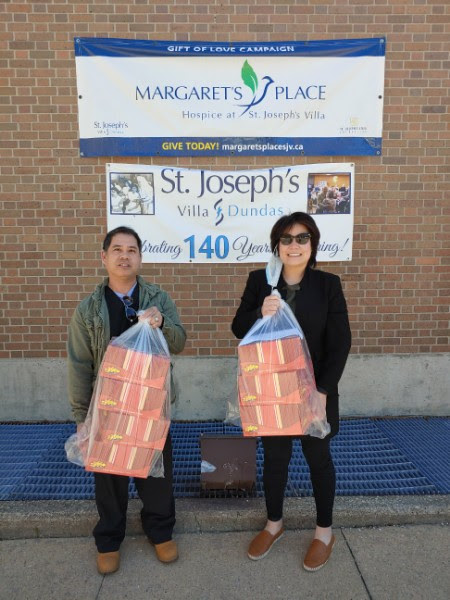 Baker's Bounty
Our front line team continues to work around the clock to keep our residents safe. Last week, Rose Ty of Remax Realty brought baker's boxes filled to the brim for our staff. Knowing first-hand the challenging role that our Villa teams plays in caring for our residents, Rose wanted to show her appreciation and admiration for their contributions during the pandemic and on a daily basis. Thank you Rose for sharing your kindness and bringing sweetness into our days.
Martin Sauzon, PSW & Rose Ty, Remax Realty
Rotary Unites the World
St. Joseph's Villa & Foundation is honoured to have community partners like the Rotary Clubs of Dundas. They have been pivotal in supporting pilot programs for caregivers like our Respite Care Program, supporting our capital building and expansion campaigns and most recently in supporting Margaret's Place Hospice at St. Joseph's Villa. Members are united in their community-focused mindset and their commitment to service above self. As face-to-face club meetings and fundraising events, like their popular Lobsterfest, had to be cancelled during the health crisis, our local clubs reached out to reaffirm that they stand with St. Joseph's Villa. Here is a message of hope from some of the Rotary Club of Dundas members for our residents and staff.
Quarantine Quips
Poet-in-residence Glenn has been at it again in his first-hand account: My Villa Quarantine. Glenn writes, he's in a beautiful setting, with caring staff, so he's making the most of this safety-imposed stay-cation. Thanks to our staff for lifting Glenn's spirits and thanks to Glenn for lifting ours. Enjoy!
A Family Affair
Villa residents and their families become an extension of our own. When families reach our doors, often they've already faced a marathon. Navigating emotions, decisions, caregiving duties, they arrive hoping and praying for comfort and assurance that they've made a good choice. We welcome each resident and each family with open arms. We come to know who they are, what they need and how we can support them. As this journey changes, we remain committed to growing together.
When the time came for the Sampson Family to choose a home for Scott, they already knew the Villa was home.
Brighter Blessed Days Ahead
Thank you for bringing us the sunshine. Enjoy these warm days, practice physical distancing, wash your hands, go out only for essentials, reach out to your family, friends and neighbours virtually. We've got a long way to go but remember it is a wonderful world.
YOU CAN HELP us make the days even brighter for our residents, their families and our staff by MAKING A GIFT to St. Joseph's Villa Foundation.
NOW more than ever, your support matters.
For updates on how the Villa is addressing the Covid-19 pandemic or to find out how you can help, please visit our website. Follow us on Facebook and Twitter for all our good news stories.
Be safe, be well, be healthy,
John Woods, President – St Joseph's Villa & Don Davidson, President & CEO – St. Joseph's Villa Foundation