COMFORT IN COMMUNITY – UPDATE
Small steps in a long journey – while it is a road unknown to many of us, there is light to be found along this path. As we observe the changes throughout our country, we are asked to move ahead, no matter how uncertain we may be. We have been asked to adapt and to choose our actions wisely. While this past week has given us an opportunity to adjust to new temporary 'norms' and routines, it has also offered us the space to practice acceptance and compassion.
The Villa team continues to closely monitor this health crisis. Our thoughts and prayers go out to the long-term care homes, residents, families and staff who have been personally affected by the pandemic. It only intensifies our resolve to stay focused on safety. We continuously work to increase screening protocols and continue to follow each new guideline from the Chief Medical Officer of Health for Ontario and the Ministry of Health. We are encouraged that each small action, from washing hands, to screening, to social distancing, is helping us to save lives.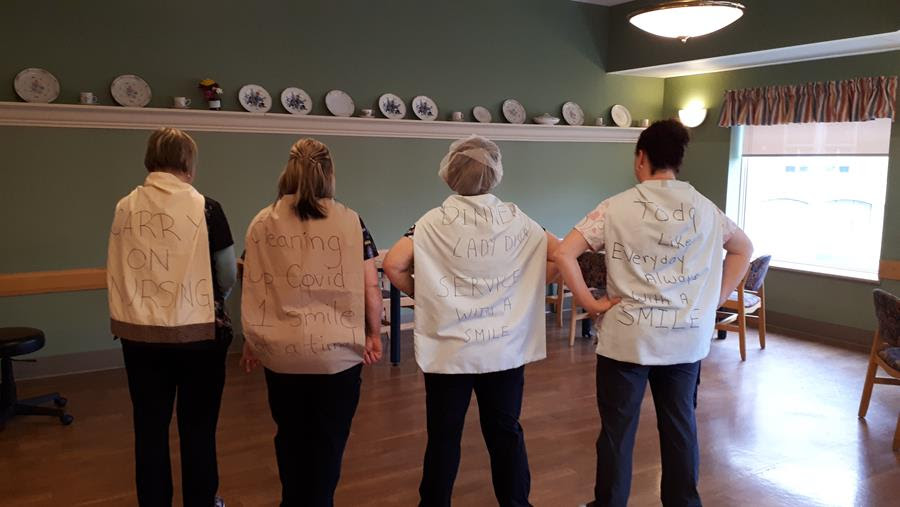 Engaging Our Residents
Birthdays are always a cause for celebration at the Villa. To make these milestones extra special, our Therapeutic Recreation team hosted 'front circle' birthday parties. Our T.R. team brought the guest of honour to the main doors of the Villa, and invited immediate family to join them in the parking lot. Surrounded by a wide, distant circle, the family and the Villa team joined in a Happy Birthday serenade and shared a wave and air hugs, until they can embrace again.
One family member wrote to thank staff saying, "Words cannot express how thankful I am for all of you at St. Joseph's Villa. In these crazy times, you went above and beyond to make this possible for my grandma and our family! Everyone was so happy and loving and I know that the residents need that more than ever right now. I can't wait to come visit again when this is all over and thank you in person. You are amazing!".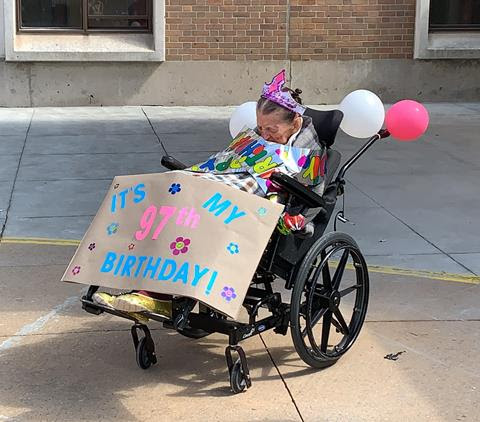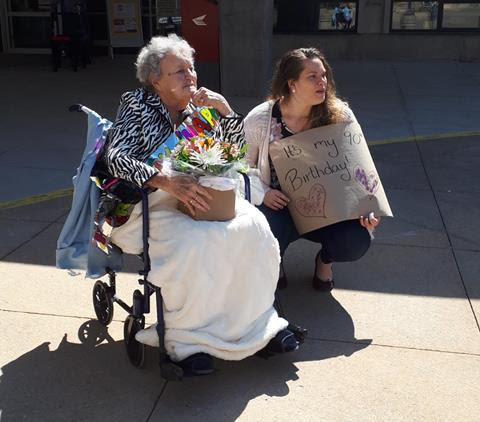 Residents had some heartfelt message and words of wisdom for their families and the community this week. Consider the witty words of our 'poet-in-residence' Glenn whose works are published at the Villa weekly for residents, staff and the rest of the Villa family to enjoy.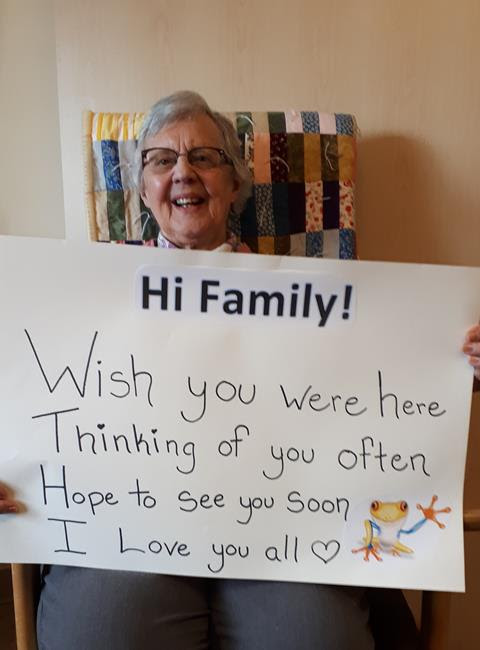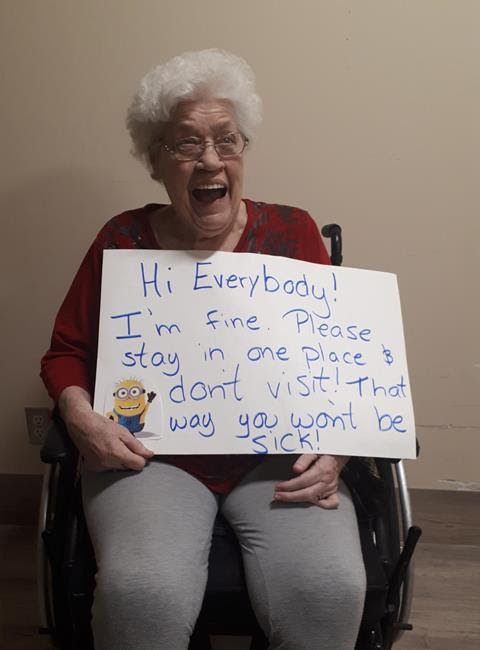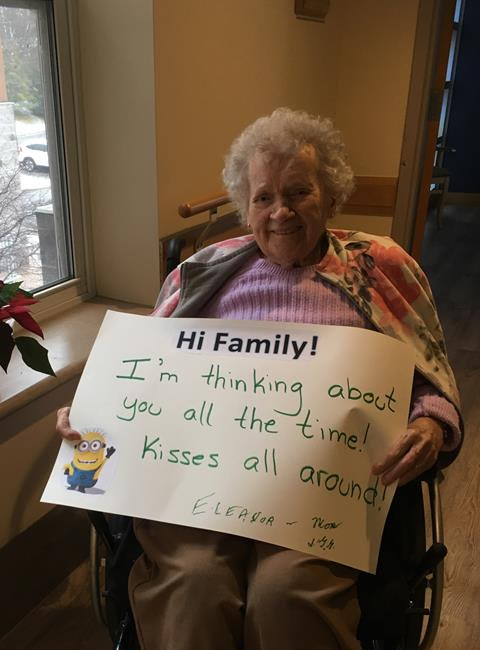 Family members responded with their own expressions of love and joined us again last Friday for Let's Make A Noise, honking horns to say hello to residents and show their support for staff who are working tirelessly.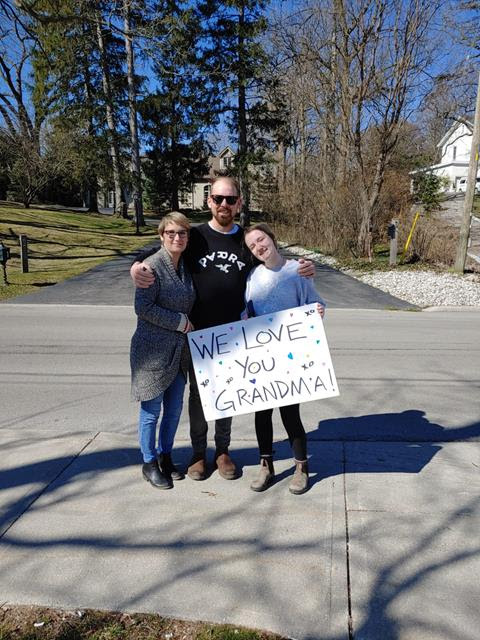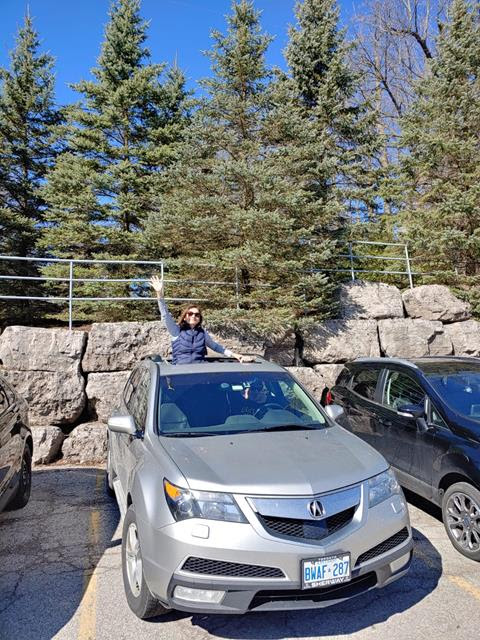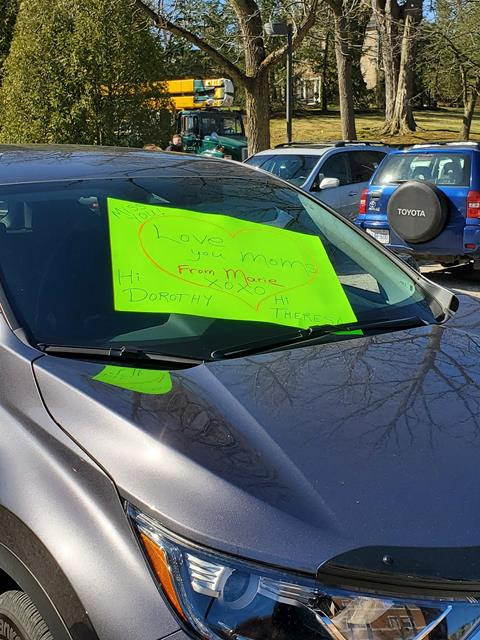 Technology is helping us to keep residents, families and the community connected. Short daily broadcasts at 11am and 4pm over our P.A. system chime in with some much needed music, comic relief or movement. Skype visits with families and online performances from local artists like Aidan Purnell help us to keep some of our most beloved programs running.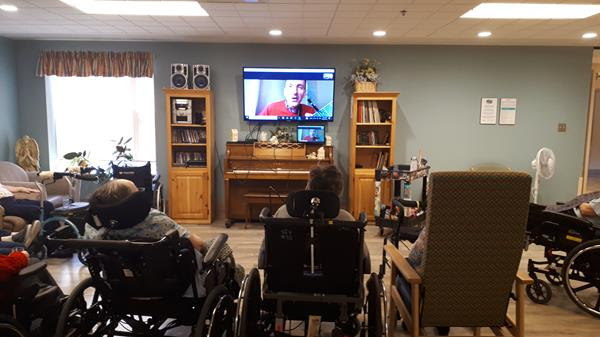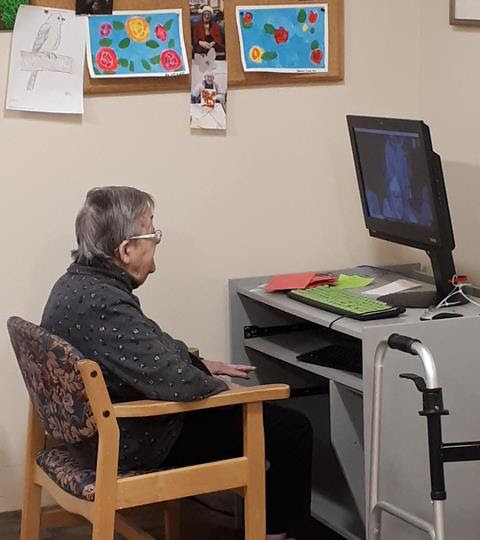 Gestures of Generosity & Words of Encouragement
Last week two family members stepped forward with a donation of 5 additional tablets to help us expand our virtual visiting program that will continue periodically based on staff availability and capacity. With stricter precautionary measures and new provisions, these resources are vital to helping us move forward. The Villa Foundation is working with the Villa to support their needs during this difficult time. Villa Foundation President & CEO, Don Davidson offered words of strength and appreciation for the Villa team and the wave of community support.
MP Filomena Tassi commended the Villa for its tremendous efforts and encouraged all of us to consider how we we can best show our love for those living and working in long-term care.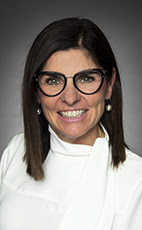 "As one of the leaders in compassionate long-term care for the elderly and vulnerable members of our Hamilton community, the staff at St. Joseph's Villa continue to provide critical care during a very difficult time. We all have a role to play in protecting our loved ones from the spread of COVID-19. If you know someone in a long-term care facility, show your love by keeping your distance and connecting with them over the phone or using the internet. Showing our love this way will reduce the risk to those we love most as well as the workers who care for them."
The Honourable Filomena Tassi, Member of Parliament, Hamilton West-Ancaster-Dundas
Now, more than ever, your support matters. Your contributions and messages of gratitude are light along this unknown path. We ask for your help by staying home, practice social distancing, good hand hygiene and respiratory etiquette. We all need to do our part to keep our essential workers, residents and community safe. We can't do this without you! Thank you for standing with us.
For updates on how the Villa is addressing the Covid-19 pandemic or to find out how you can help, please visit our website. Follow us on Facebook and Twitter for all our good news stories.
Be safe, be well, be healthy,
John Woods, President – St Joseph's Villa & Don Davidson, President & CEO – St. Joseph's Villa Foundation