COMFORT IN COMMUNITY – UPDATE
It is times like these when we remember how quickly life changes and how precious it is. Since the Covid-19 wave has emerged across our country, we've all been challenged to make choices that will affect the world around us, not only our family and friends, but our neighbours, our community and complete strangers. We are watching as our health care system is tested and we've seen people come together, knowing that we are all connected and we have an important role to play.
As one of the largest long-term homes in the province, the Villa team takes tremendous pride and responsibility in ensuring residents and staff are safe, secure and healthy. The guidelines provided by the Chief Medical Officer of Health for Ontario and the Ministry of Health have meant we have to keep loved ones apart and restrict non-essential visits, among other measures. We know that this is tough for residents, tough for you, our Villa family, and tough for our community.
But extraordinary times call for extraordinary measures. Inside our walls and beyond our doors, we've been humbled to witness small acts of kindness and courage, every day. It doesn't matter what it takes, we will be there for our residents and families.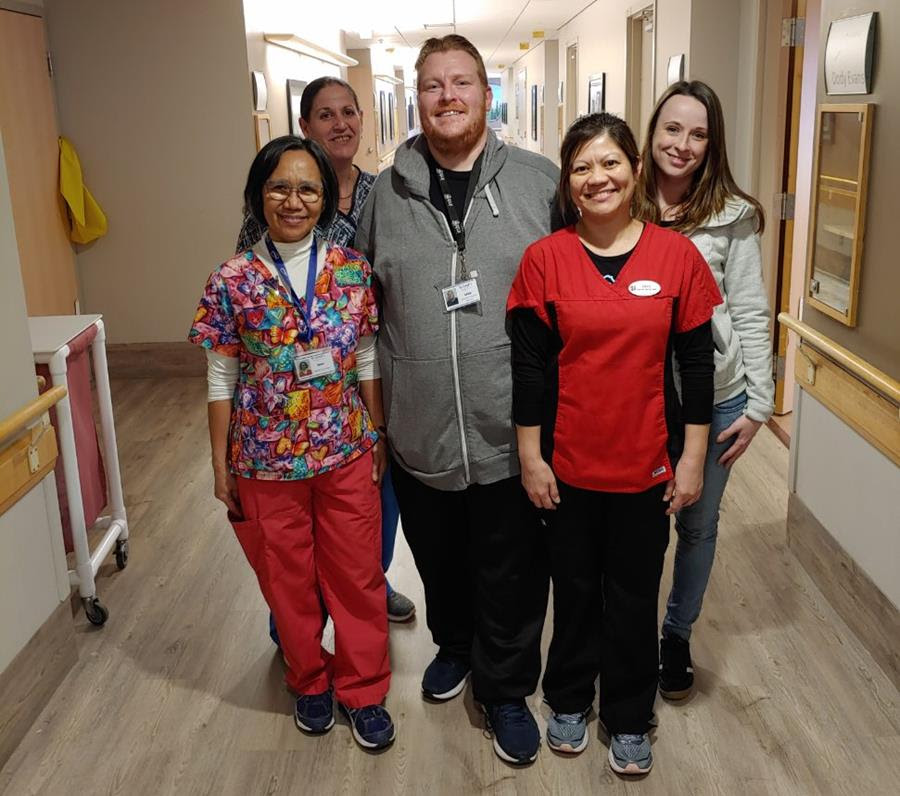 Connecting Our Residents
While our community programs have had to close temporarily, additional staff have been deployed to assist with screening and to provide support on Resident Home Areas. Staff are making it a priority to engage and comfort residents who are struggling.
Aside from regular phone calls, many residents and families are connecting over Skype and Zoom, thanks to our creative and resourceful Therapeutic Recreation team. Watch our social media pages, your loved one might have a message for you like these!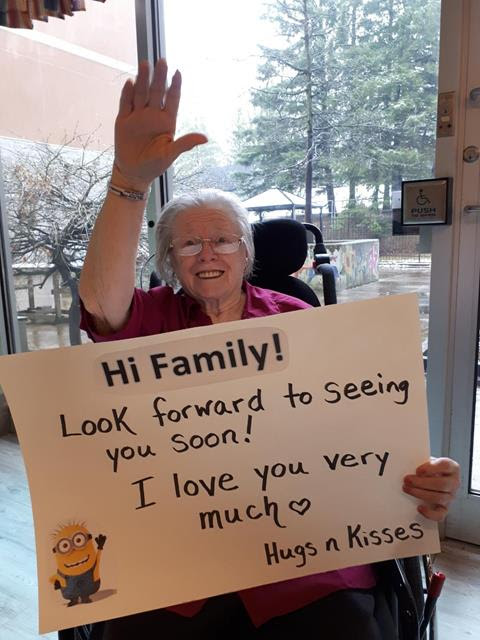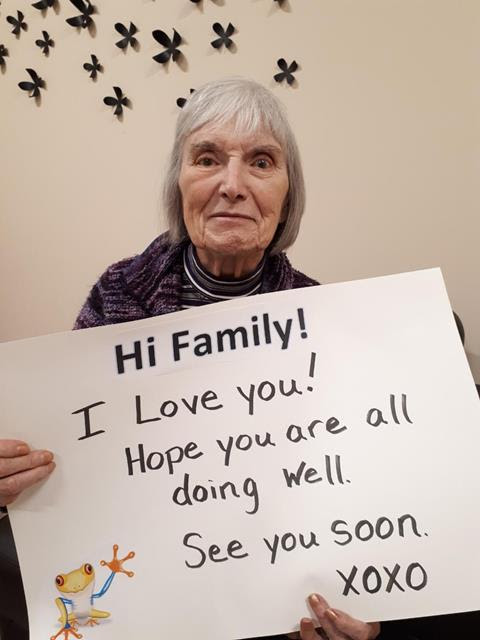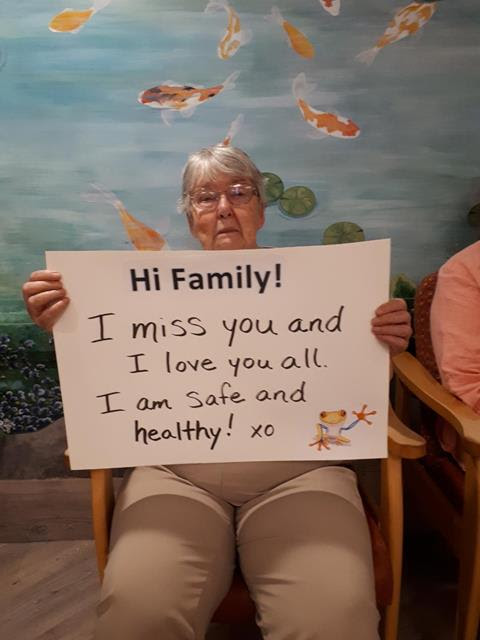 Some family members are coming to the Villa for short window visits, standing outside with banners and signs, while they chat over the phone.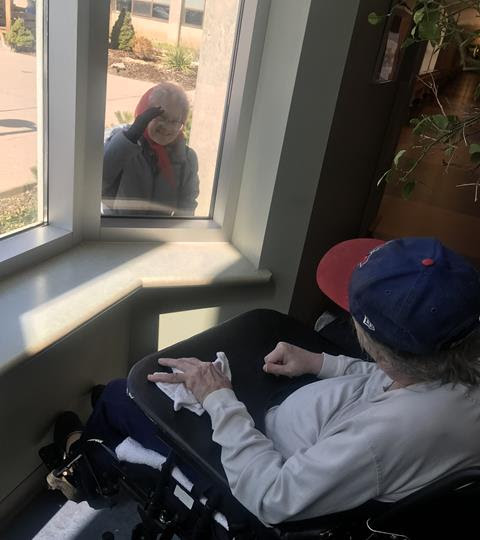 Beverley Yates, Manager of Spiritual Care, had an ingenious idea to help family members, friends and community members to say hello to residents, while practicing social distancing. On Friday, March 27, 2020 at 11am, over 50 vehicles filled our parking lots and participated in Let's Make a Noise. Residents and staff could be seen from every window and balcony to listen to this joyful, heart-warming chorus of honks and beeps. The music never sounded so sweet.
Every Friday at 11am, drive by the Villa or find a parking spot! Let's Make a Noise! Honk your horn, bang pots and pans, blow a whistle and let residents know you care. They'll be waiting at their windows for you.
Community Support
Thank you for standing with us. Your generosity and thoughtfulness has overwhelmed us. Thank you for recognizing our team of essential service workers. On the front line of this health crisis, they have to adapt daily, sometimes hourly, to the rapidly changing landscape. Their hearts are full and your expressions of kindness and gratitude give them inspiration.
Whether it is the gift of flowers, like the hundreds delivered from Schuurman Greenhouses, a plant delivery from Holland Park Garden Gallery or the 300 slices of pizza from Villa Men's Club volunteer and Villa Foundation Board Member, Dave Weber, this is the comfort and compassion that helps us to continue our mission of service. Today more than ever, we are all Sisters of St. Joseph.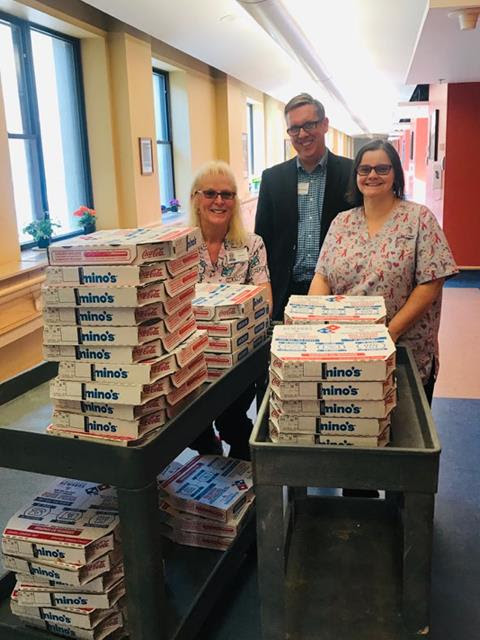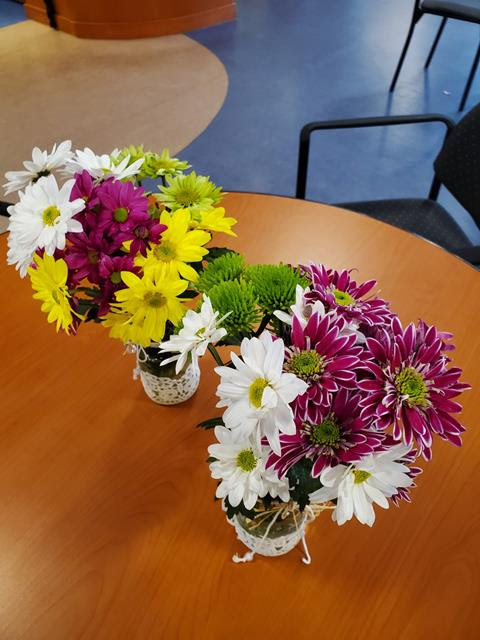 For updates on how the Villa is addressing the Covid-19 pandemic, to arrange a Skype/Zoom call with your loved one or find out how you can help, please visit our website. Follow us on Facebook and Twitter for all our good news stories.
We live in an incredible community that supports community. Now more than ever your support matters.
Be safe, be well, be healthy,
John Woods, President – St Joseph's Villa & Don Davidson, President & CEO – St. Joseph's Villa Foundation